The invention is a multi-spiked pull-up bar for home use as a gymnastics aid, consisting of two supports that are connected to each other via a hinge. 

The training device can be attached between two opposite walls and thus holds the exercising person stably in the air. 

short description of the pull-up bar
The multi rung pull-up bar is ideal for rooms of different sizes. It consists of two rung elements connected via a central hinge, each of which is equipped with pull-out elements.


The chin-up bar can be adapted to the respective room size as required (room width 200-320cm). It is fixed e.g. between the upper edge of a door frame and the opposite wall (alternatively by means of two wall rails) and is held in place by means of contact pressure.

Advantages of the invention
Benefits
Home Work-out
Area of application
For the fitness unit at home, the pull-up bar offers advantages as a mobile, safe and extremely variable exercise device without requiring much space, which no other comparable product can match.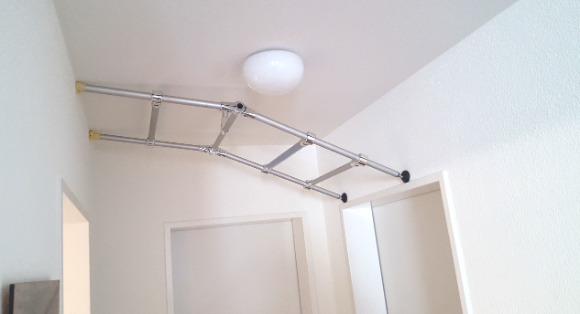 Effective overhead training
The invention is suitable for uncomplicated exercises to strengthen the trunk, back & arm muscles.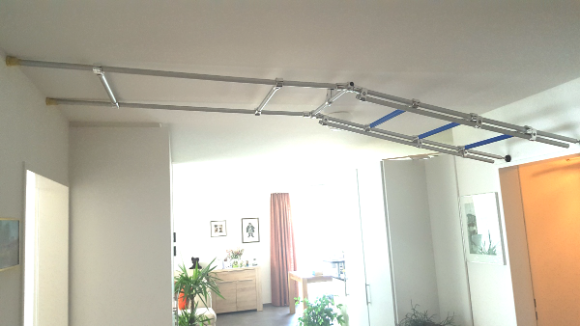 Strength training with own weight
Upper body training with own weight can effectively strengthen the arms and abdominal muscles if used regularly.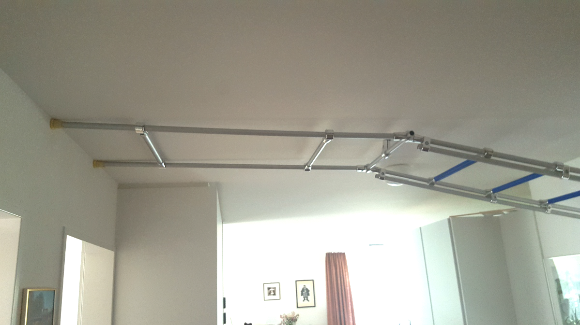 Coordination training
The multisprout pull-up bar can also be used for coordination exercises. The athlete improves his coordination through balance and swing exercises.

Type of protection: Patent registration Switzerland 

Registration number: 01065/20 / A 
Registration date: 28.08.2020 
Main Claim: A gymnastics apparatus for mounting in a space comprising first and second beams interconnected by a hinge, each beam having an end spaced from the hinge, at least one beam being configured such that the distance between the end and the hinge is variable

6-rung climate bar for rooms of different sizes (L/W/H)

All dimensions in terms of material thickness and diameter are approximate and can be adjusted according to available standard market dimensions.

Pull-up bar without matching door frame
Are there any Open questions?
Do you require further information?
We would be happy to provide you additional information material or clarify open questions with the inventor for you. Simply contact us and we will be happy to support you.

Contact us

JMW INNOVATION GMBH

jmw Innovation GmbH has been successfully implementing and marketing ideas at two locations (Salzburg/ Berlin) for over 20 years. Thanks to our many years of networking, our passion for new ideas and our experienced employees, we are THE first point of contact for new ideas in the German-speaking world.

Website
www.erfinderberatung.com
© 2022 All rights reserved.